6 Gift Ideas For Beer Lovers
This listicle is full of lots of cool items and gift ideas for beer lovers. If there's something here you decide you just have to have, we've provided links to the product websites.  If you click on the link and make a purchase, Beasley Media Group may earn a commission.  Have an idea for a fun theme for a gift idea list you'd like us to create?  Drop us a line at shopping@bbgi.com.
Beer: It's more than just a drink, it's a lifestyle.
From ales to IPAs to stouts and lagers, beer lovers are as diverse as the beverage itself. Whether you know a dedicated home brewer or someone whose love affair with the sudsy libation has just started, here are just six great gift ideas for beer lovers in your life.

Every beer lover should have their own designated beer mug, and this Classic Initial Beer Mug is an elegant option to let everyone know which mug is yours. This beer mug comes etched with the initial of your choosing and is also dishwasher-safe for added cleaning convenience.
Get it now from Zulily.

Simple but incredibly practical, this bottle opener ring is the perfect beer accessory for any beer lover. Made from stainless steel and coming in a variety of colors, this ring will come in handy when you come across a beer bottle without a twist-off cap.
Get it now from Light In The Box.

Forget vanilla, lavender or any other traditional candle scents! This "beer" candle from The Stinky Candle Company will add some much-needed whimsy to any room in your home.
Get it now from Perptual Kid.

Regular pint glasses are nice, but these double-wall beer glasses will elevate any beer lover's game. The double-wall design not only helps keep beer colder for longer, but it also reduces condensation on the glass itself. These glasses are also dishwasher safe and freezer safe for those times when you just need a frosted glass.
Get it from Sur La Table.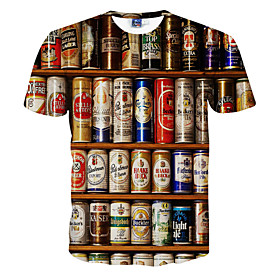 For the beer lover that literally wants to wear his fandom, this graphic beer print t-shirt would make for a great gift. The all-over print features vintage can designs from the likes of Stella Artois, Carlsberg and more!
Get it now from Light In The Box.

This beer flight board would be the perfect gift for the beer lover that not only enjoys trying different beer but is also looking to host a beer tasting themselves! This set comes with four tasting glasses and a tasting board that holds and helps transport all of your beer samples.
Get it now from Vintage Gentleman
National Beer Day is April 7th, which means now is a great time to give one of these awesome finds to the beer lover in your life. We hope you these gift ideas for beer lovers inspires you for your next gift exchange.
Please note that items are in stock and prices are 

accurate

 at the time we published this list.

 

Have an idea for a fun theme for a gift idea list you'd like us to create?  Drop us a line at s

hopping@bbgi.com

.
Erica Banas is a rock/classic rock news blogger who's well-versed in etiquette and extraordinarily nice. #TransRightsAreHumanRights